I just published a new beta version of Strum Machine, which you can access at beta.strummachine.com on all platforms, as well as with the SM Beta TestFlight app on iOS.
It's still a work in progress, with some rough edges and some things I need to finish… but it also has some very fun new features, so I wanted to give you all a chance to start playing around with it today!
Some of the highlights:
Bass runs! (on the guitar) – Tell Strum Machine how often you want the guitar to play bass runs and it will automatically insert them at chord changes. We built a custom interface for configuring the kinds of bass runs you want to hear and I'm very curious to hear what everyone thinks of it. (Intuitive? Fun? Confusing? Let me know…)

Chord voicings – Want that open B string in your G chord? Want to hear that E tune played out of D position with drop-D tuning? All this and more is now possible!

Pattern preferences – For example, you can now adjust the balance between "booms" and "chucks" in the basic boom-chuck strum, or the amount of sustain in the dampened strumming patterns. I expect these options to change in the near future, though, so this aspect is subject to change.
Just open the Band Settings menu on any 4/4 or 3/4 song, then tap Guitar to see the new options!
If you haven't been using the previous beta version, you'll also notice a redesigned "Band Settings" menu. We spent many hours tweaking and refining the interface around changing band settings. It should all feel familiar, but… nicer. (Props to my designer Tyler for really bringing the polish here.)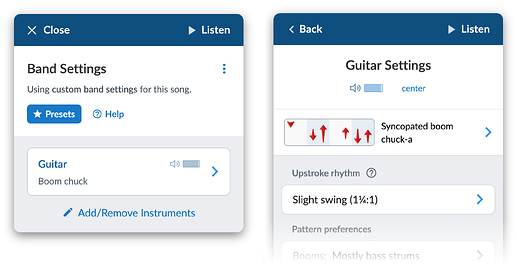 As always, all feedback (positive and negative) is very much appreciated! I'm still actively working on this area of the site so now is a great time to make your wishes known relating to the guitar or other instruments, or to other aspects of this band settings menu.