Today, the new band settings interface and guitar strumming patterns that have been in beta testing (and discussed at length in other forum threads) are finally available to everyone, on the main strummachine.com site and in the mobile apps!
If this post looks familiar, it's because this update was briefly released in early October, but had to be rolled back due to some bugs which took awhile to fix. I re-released it on November 28.
If you haven't been using the beta, watch this six-minute video that gives an overview of how to use the new features: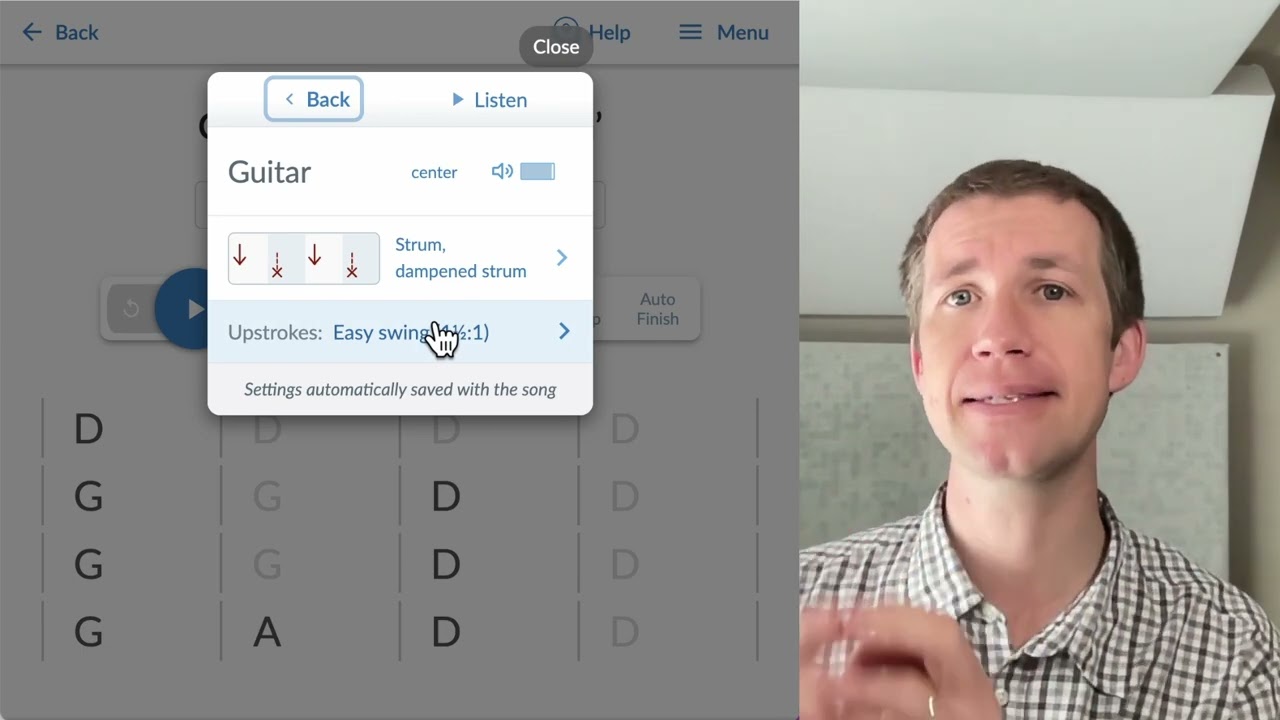 Simulating more complex strums in a realistic way has been a huge technical challenge, and this update involved countless hours of research and development, spanning nearly five years (though most progress happened in the last six months). I'm thrilled with the update and the positive response I've received from my beta testers, and I hope you enjoy the upgrade. There is more to come in future updates, too!
Highlights of this release:
Fully re-recorded guitar and mandolin samples with much-improved audio quality and clarity
A few bluegrass-style strumming patterns with upstrokes
Dampened closed-chord strums for swing and jazz
A couple "pop" strumming patterns (including a half-time strum)
A Celtic-style strum for reels and jigs (with drop-D tuning)
Configurable "upstroke swing" to adjust the feel of each strumming pattern
Per-song band settings so that each song can have its own backup style
A few built-in band presets to get you started, and the ability to make your own presets
Both global instrument volume settings (as before) and optional song-specific volume overrides
Pan controls for each instrument, to put them in your left or right speaker
Optional foot tap, either on downbeats or in a Canadian-style rhythm
Support for making "5" chords that have no third
A master volume control, useful for Zoom calls and JamKazam, etc.
A bit of design "polish" throughout the app
Updates planned for the future include:
Improvements to all existing guitar strumming patterns
Additional strumming patterns (let me know if there are specific ones you most want to see!)
Automatic bass runs (hopefully)
Ability to specify "voicing" to use (capo position, drop-D or standard tuning, etc.)
More mandolin strumming patterns to match the guitar offerings
Bass options, including a walking bass
Configurable song endings
More jazz/swing chords
…and more, depending on what folks want to see!
As always, your feedback (positive and critical) is most welcome! I don't know if I'd say "this is just the beginning" – I'd like to think I'm a little further along than that – but it's certainly nowhere near the end!
Enjoy!