I like those charts. Makes it clear even without hearing how the strum will be executed.
Luke, when the dot moves in the middle example does it mean the bass note has changed? On the whole this looks easily understood.
@JohnStevens Yeah, that's showing that there's kind of a cross-picking thing going on in the mids and treble strings.
Glad you both like the strumming-pattern charts. Still iterating on the UI. Here's today's latest rough layout: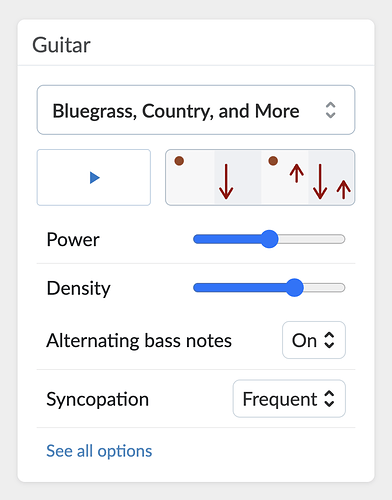 Looking good. I think I'm gonna fall in love with this.

Agreed it's going to be huge. The strumming patterns will be great to go with my lead playing. I'm also eager for the new instruments so I can play rhythm with a bigger band. Now, if there was just some way Luke could get his guitar to drop out when I'm singing so I can be be the main rhythm guitarist.
Yeah, I like what your thinking on that. If I were playing rhythm behind a banjo break or kick, I would choose that strum in certain places that emphasize the timing and accent pattern of the banjo part, as opposed to just doing it over and over like I did in the video. Although there are times when it works well repeated over several measures depending on what the banjo is playing. I think being able to intentionally place the strum on any specific measure would be great!
Yeah, that control looks amazing! I really appreciate the thought you put into visual presentation of your UI controls. Coupled with the "emphasis techniques" you mentioned as a way to apply a strum to a specific measure, I see this really raising the quality level of how strum machine can produce tailored rhythm textures and elevate it toward being an ideal tool for accompanying live performance, song writing and rehearsal.
This looks Great Luke! Thank you for all your work to make us happy and enjoy our precious Gift - MUSIC!
Wow Luke! I love them all. So exciting
Getting closer to being able to put out the first public preview version! Probably sometime in the next couple of weeks. It'll have a bunch of rough edges and a lot of room for improvement, but it's at a place where you'll be able to have a lot of fun with the new patterns.
Here's a little teaser of one of the swing rhythms: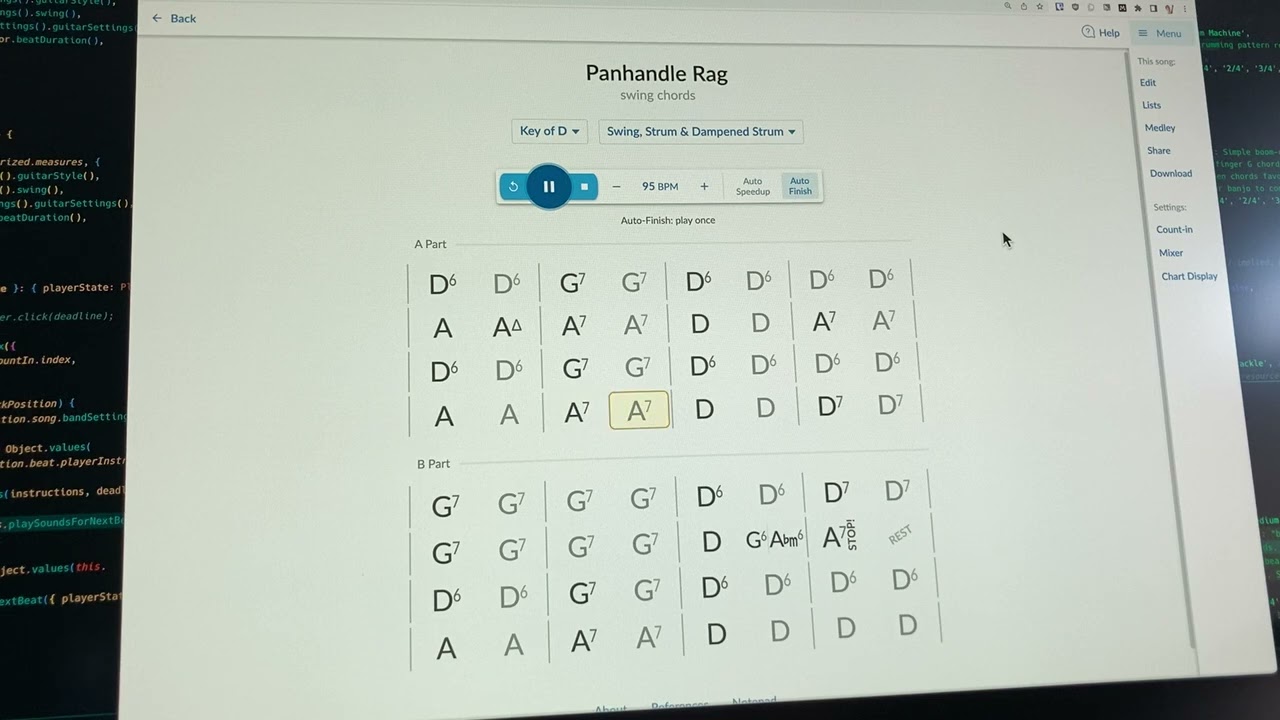 Sounds great. Who's playing mandolin?
That was me, playing live while the phone was filming the screen.

Good pickin, it is funny. I just put my guitar down after playing that tune.
Great demo Luke!!! You're awesome on that mandolin!
Very excited about the strum patterns.
Strum Machine has been playing a much bigger role in my musical life than I had expected. And this is a major upgrade.
That is excellent. Good job Luke!! Strum Machine rocks !!!
The first preview version is out!
Much more work needs to be done, but you can play around with what I've got so far yourself, today!

Take a look:
Love
love it! As always, you are my hero!