Friends, I'm thrilled to be announcing the first preview release of some new guitar strumming patterns for Strum Machine!
To be clear, this is a rough draft, so to speak. I have many more patterns/styles/genres to cover, and more work to do on improving the realism of what's there so far. Plus there are other shortcomings, which I'll cover toward the bottom of this post.
So why am I putting this out well before it's finished? Simply put, I'm already having so much fun practicing with these new patterns, and I want you to enjoy them too!
[Post updated May 23 to reflect current progress on the upgrades.]
Known issues
Besides the general work that needs to be done on the various styles and strumming patterns, here's a list of shortcomings that I know about and will be addressing in a future release:
Genre/style settings are forgotten when you close Strum Machine Implemented May 23
The new styles aren't available in medleys or in the song editor Usable in the editor as of May 23, medleys as of mid-September
Endings (when using Auto-Finish) don't sound right Fixed for all genres besides Celtic on June 6
There's no way to specify whether a song should be played "modal", or with a particular voicing
No need to notify me about these issues, although if you have thoughts on how to address the last one I'd be curious to hear them.
Video demo of what's there
This 3-minute video includes a sampler of the new styles in this first beta release (starting at 1:25):
How to try it out
Just go to beta.strummachine.com and open up any song. You'll see a new button next to the key-switcher, which opens a menu that lets you change the backup style: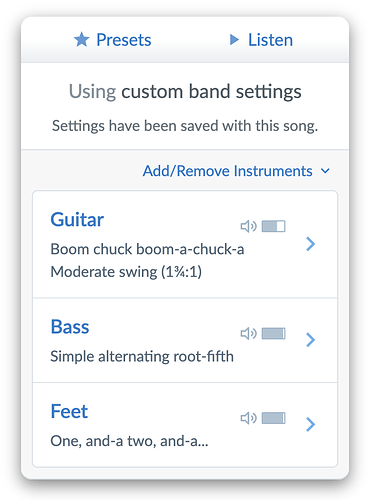 Tap the "Presets" button at the top to see some built-in presets (more on the way) or make your own. Or just click on an instrument to start adjusting it.
Don't be shy about sending feedback! Click "Help" in the top-right corner of Strum Machine or reply here on the forum. Thanks!
Broad styles/genres I plan to cover
Bluegrass
Old-Time
Celtic
Canadian
Jazz/Swing - should this be two separate genres?
Cajun
Country
Blues
Folk/Rock/Pop - I merged these…
Misc/Other - if needed
Only the first five genres have anything to play with at the moment…
What's yet to come
Most of the new strumming patterns available are still in a "work in progress" state, especially the Celtic ones. And there are plenty more that I haven't done the programming for yet. I'm trying to take all the different accompaniment variations used within each genre/style and distill them down to a handful of "sub-styles" for each instrument, and figure out what options for "fine tuning" each instrument I want to offer. My goal, though, is to make it so that a large majority of users are satisfied with the defaults for each genre and don't need to dive into the details.
I would love to hear your input on any genres/styles you're particularly knowledgable/passionate about, especially in terms of what you feel are the "sub-styles" within each genre/style.